An introduction to the anonymous French artist whose 'invasion waves' have adorned the city streets of more than 30 countries around the world 
1
Born in 1969, Invader is the pseudonym of a certain graduate of the École des Beaux-Arts in Paris. Using the 1978 arcade game Space Invaders as the subject for an ongoing project, Invader makes images from ceramic tiles such as NY_124, 2013 (below). These works resemble mosaics or pixilations. He cites Space Invaders as 'the perfect icons of our time, a time where digital technologies are the heartbeat of our world'.
2
Using 'guerrilla' tactics he calls 'invasion waves', Invader installs 20 to 50 of these 'Space Invaders' in public places within targeted cities. He describes this project as 'urban acupuncture'. These 'invasions' began in Paris in 1998 and quickly spread to other cities in France. His works have now appeared in more than 30 countries around the world, most famously on the 'D' of the Hollywood sign, placed there on New Year's Eve 1999.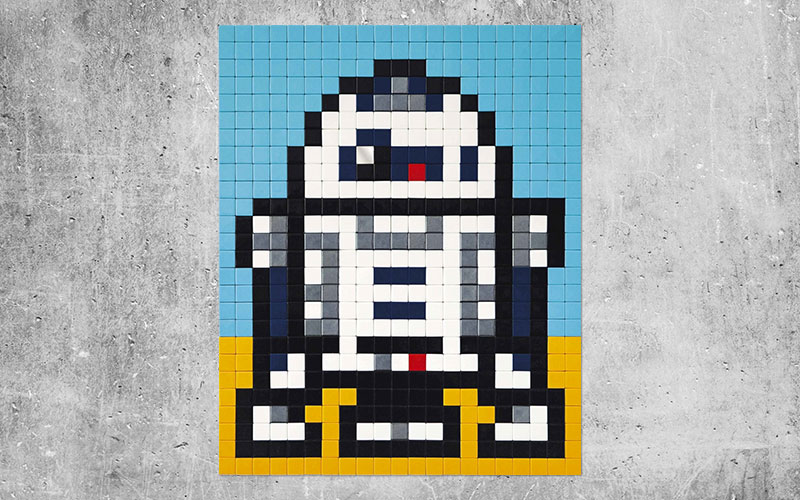 Invader (French, b. 1969), ALIAS NY_124. Ceramic tiles on glass panel. ⅛ x 19½ in (61.2 x 49.5 cm). Executed in 2013. This work was offered in the First Open: Post-War and Contemporary Art auction on 4 March 2016 at Christie's New York
3
Invader records all the pieces he makes including the date and location, awarding each artwork a score between 10 and 100 depending on the success of the 'invasion'. Each city earns its own ranking by adding all the scores together. Invader estimates that up 15 per cent of his early works have now been removed. As a result he now places many of his pieces out of easy reach.
4
Invader has been arrested for his interventions and is banned from entering several countries, but he is reassured that making art is unlikely to incur the death penalty. He works at night and wears a mask, and insists on his face being pixilated for the rare appearances he makes on camera, as seen in the acclaimed Banksy documentary Exit through the Gift Shop (Invader is the cousin of the film's central character Thierry Guetta, aka Mr. Brainwash).
5
The highest altitude for one of the artist's 'Space Invaders' was achieved by flying one 22 miles above the Earth in a balloon. The lowest artworks can be visited by diving off the Mexican coast. Since 2004, he has been creating artworks using Rubik's Cubes, an art form he calls 'Rubikcubism'. Invader has had solo shows in France, the USA, Japan, Hong Kong and Australia.
Main image at top, left: ceramic tile art by Invader, in Rue de La Huchette, Paris, August 2012 © PjrTravel / Alamy Stock Photo. Right: Invader photographed in Montreuil © Stephane Grangier/Corbis